2012 Polaris RZR XP 4 900 IS HERE!
Polaris Introduces Another Extreme-Performing Side-by-Side to the RANGER RZR Family
New RANGER RZR XP 4 900 Offers Razor Sharp Xtreme Performance for Four
*Note- this article was written by UTV Underground
This past January, Polaris introduced a whole new class of side-by-side with the RZR XP 900. Building off of the launch, Polaris is introducing another extreme performance side-by-side to the family, the RZR XP 4 900. This launch will bring Xtreme performance for four while delivering the ultimate combination of power, suspension and agility found in the entire RZR family.
The RZR XP 4 900 is the most-capable, highest-powered, multi-passenger side-by-side with the longest wheelbase making it the ultimate performance vehicle in the market place. The vehicle has many of the same attributes as the RZR XP 900; the proven 88 horsepower, ProStar™ 900 Twin engine, 3-Link Trailing Arm Independent Rear Suspension (IRS) with 12.5 in/31.8 cm of ground clearance and 14 in/35.6 cm of travel, On-Demand True All-Wheel Drive and low center of gravity for unmatched cornering; with a class-leading 107 in/271.8 cm of wheelbase to not only accommodate two more passengers, but also provide the smoothest ride available on a high-performance side-by-side.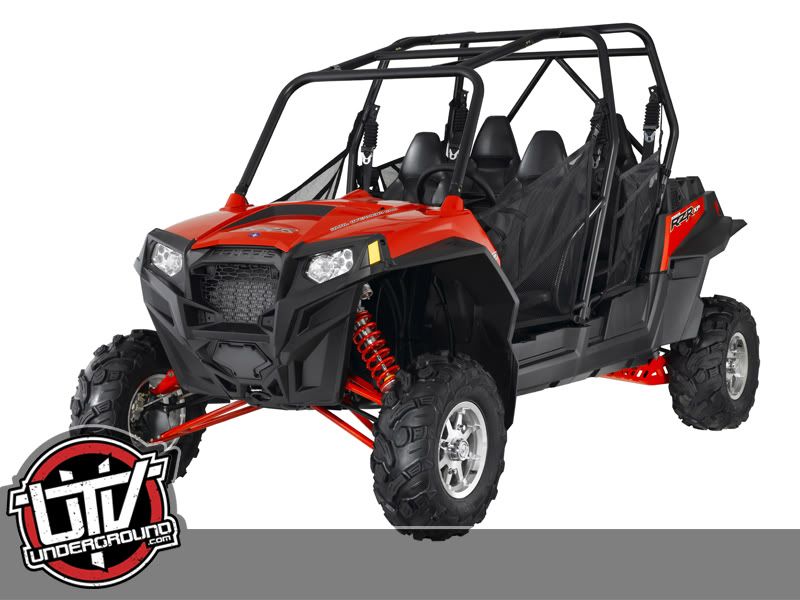 "Polaris continues to innovate the RANGER RZR line by developing highly sought-after vehicles that offer the ultimate combination of power, suspension and agility," said Dave Longren, vice president and general manager of Polaris' Off-Road Vehicles Division. "With the instant success of the RZR XP 900 and the popularity of multi-passenger vehicles throughout the industry, it was a natural progression to develop an extreme-performing vehicle that four can enjoy."
The ultimate combination of power, suspension and agility starts with power. At the heart of the RZR XP 4 900 is the 88 horsepower ProStar™ 900 Twin EFI engine that was built specifically for an extreme-performance side-by-side and first found in the RZR XP 900. The engine features Dual OverHead Cams (DOHC), four big valves per cylinder and dual throttle bodies located close to the intake valves for fast throttle response and groundbreaking acceleration.
In order to handle the massive power of the engine and keep the ride smooth, the RZR XP 4 900 features a 3-Link Trailing Arm IRS. The 3-link design consists of two extra-long radius rods and a far forward-connecting trailing arm resulting in a strong, yet lightweight system. And, for the first time on a Side-by-Side, the RZR XP 4 900 will offer Premium, 2.5 in/6.4 cm body, Walker Evans rear shocks, the largest stock shocks on the market. The massive 2.5-inch body shocks are designed to deliver higher damping forces and avoid shock fade compared to a 2-inch body shock thanks to a 35 percent larger piston area that reduces internal pressure and heat generation. The shock also contains 35 percent more oil volume to slow the rate of heat buildup when pounding through the roughest terrain.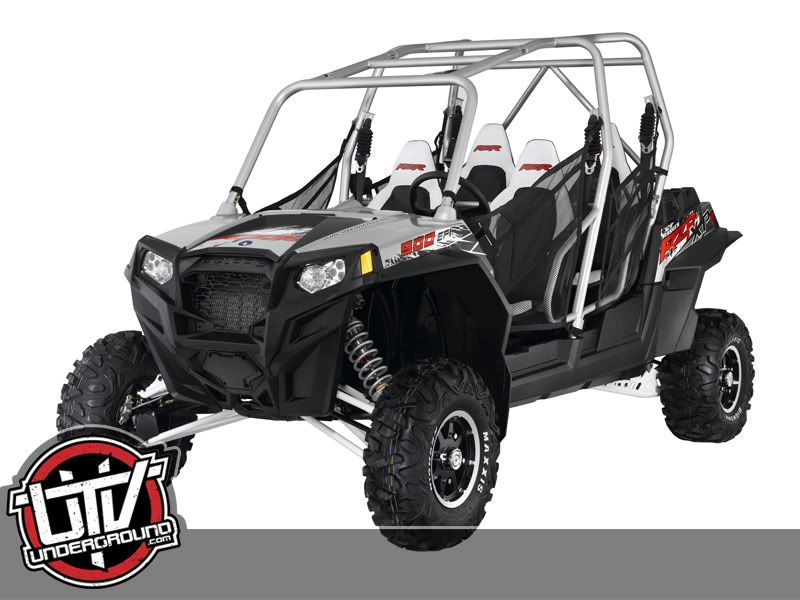 Coupling the Walker Evans shocks with RZR XP 4 900's long wheel base makes for the smoothest ride from a high-performance side-by-side. Its 14 in/35.6 cm of terrain-absorbing rear travel and 13.5 in/34.3 cm of front travel soak up the rough stuff and deliver a smooth, precise ride, while 12.5 in/31.8 cm of ground clearance gives the machine the ability to tackle any obstacle in its way.
For razor-sharp agility, RZR XP 4 900 features a low center of gravity for the ultimate ride over rough terrain. The engine-behind-the-seat design and strategically-placed key components optimize vehicle weight distribution delivering extreme, razor-sharp agility and performance, while the race-inspired rear suspension maximizes traction and power in the corners. To provide precise cornering, the suspension's radius rods extend deep into the wheel hubs and feature an uneven link geometry that optimizes camber. This allows the tires to lean into the corner through the suspension travel, and plant more tire surface on the ground for maximum control. For added agility, Polaris will have a limited edition RZR XP 4 900 with electronic power steering for added control and less rider fatigue in the rough stuff.
In creating the first high-performance, four-seat side-by-side, Polaris paid close attention to ergonomics. Similar to its family members, the RZR XP 4 900 has class-leading tilt steering offering 10 in/25.4 cm of range and a heel pocket for unmatched throttle control. The front passenger will enjoy an adjustable front passenger handrail, while the rear passengers have ample amount of head-room and a rear passenger handrail. Similar to the front passengers, rear passengers also have a 12-volt plug in and two cup holders. All four bucket seats are interchangeable and offer 4 in/10.2 cm of front-to-rear adjustability making it easy to switch drivers. For safety, RZR XP 4 900 has four side protective nets and a certified roll-over protective structure (ROPS).
The RZR XP 4 900 is offered in Indy Red and a premium automotive quality Vogue Silver limited edition model with electronic power steering, and will be available at Polaris dealerships in January. PURE Polaris will have a wide range of accessories, including cargo boxes, winches and protection also available at launch.
# # #
RZR XP 4 Specs
ENGINE
Engine Type 4-Stroke DOHC Twin Cylinder
Displacement 875cc
Fuel System Electronic Fuel Injection
Cooling Liquid
DRIVETRAIN
Transmission/Final Drive Automatic PVT P/R/N/L/H; Shaft
Drive System On-Demand True AWD/2WD
SUSPENSION
Front Suspension Dual A-Arm Walker Evans 2" body (comp adjust/res.) 13.5" (34.3 cm) Travel
Rear Suspension Trailing Arm Walker Evans 2.5" body (comp adjust/res.) 14" (35.6 cm) Travel
BRAKES
Front/Rear Brakes 4-Wheel Hydraulic Disc with Dual-Bore Front and Rear Calipers
Parking Brake Park in Transmission
TIRE/WHEELS
Front Tire/Model 27 x 9-12; ITP 900 XCT
Rear Tire/Model 27 x 11-12; ITP 900 XCT
Wheels Cast Aluminum
DIMENSION
Wheelbase 107.4" ( 272.8 cm)
Dry Weight 1,390 lbs. (631.8 kg)
Overall Vehicle Size (LxWxH) 134.4" x 64" x 77" (341.4 x 162.6 x 195.6 cm)
Ground Clearance 12.5" (31.75 cm)
CAPACITIES
Fuel Capacity 7.25 gal (27.4 L)
Bed Box Dimensions (LxWxH) "23 x 38 x 10""
(58.4 x 96.5 x 25.4 cm)"
Box Capacity N.A./300 lb (136.1 kg)
Payload Capacity 900 lb (408.2 kg)
Hitch Towing Rating N.A.
Hitch/Type None
FEATURES
Cargo System Lock & Ride
Lighting White LED, High/Low
Electronic Power Steering Not Equipped
Instrumentation Digital Gauge, Speedometer, Odometer, Tachometer, Tripmeter, Hour Meter, Clock, Gear Indicator, Fuel Gauge, Hi-Temp/Low-Batt Lights, Coolant Temp, DC Outlets (2)